About Us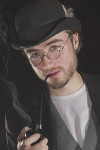 Hi, I'm Benji.
When I need a label for my profession, I usually use the term "creative technologist". Basically, I'm prone to insatiable curiosity, particularly with regard to technology and the arts. Unsurprisingly, this has lead me down some fascinating and unexpected paths.
In 2012, I had just left my job as a full-time touring musician, and I found myself wondering what it would take for me to print and cut custom CD packaging for my recording studio's clients. After a few weeks of reading articles and product reviews, I purchased a large-format printer, and a computer-controlled cutting machine.
Meanwhile, I had been doing some work as an iPad repair technician, and I had become frustrated by the quality of the adhesives which were being used for the repairs. It occurred to me that I might be able to use my new machine to cut better quality adhesives, and that I might also be able to make some refinements to the shapes of the adhesive pieces.
After redesigning the adhesive shapes to provide a stronger, faster, simpler repair, I quietly added these "better iPad adhesives" to the "store" section of my personal web site, expecting the page to go unnoticed until I invested some money into advertising. To my astonishment, however, I began receiving orders the very next day.
As the weeks and months passed, orders for these adhesive kits continued to pour in from companies and individuals around the world. In early 2013, I moved the business out of my tiny apartment, and into a small workshop in a spare room of a music school owned by my good friend Nathan Wilson.
Nathan and I worked closely together that year, and I shifted my focus to writing new software to control the cutting machines more efficiently. Having spent many months working alone, it was refreshing to have Nathan on board.
The following year, BowlerTech became a family business, with my father (Paul) taking over manufacturing and quality control responsibilities, and my mother (Bea) taking over shipping and general customer service.
As our little company continues to grow, I'm excited to find more ways to help make mobile electronics repair faster and easier, and to help the industry grow!
Thanks for reading! :)